Evaluation of Existing Agricultural Nitrate Control Programs
This site is intended as a resource for background information and updates for the State Water Resources Control Board (SWRCB) Nitrogen Task Force Expert Panel.
---
---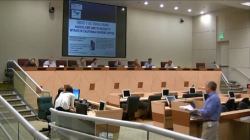 Expert Panel Meetings
Video
Downloads
---
For general region-specific information please visit the Regional Water Board homepages:
Questions? Comments? Please use our online Contact Form.
Recommendation 14 of the State Water Board's report to the Legislature was to convene a panel of experts to assess existing agricultural nitrate control programs and develop recommendations, as needed, to ensure that ongoing efforts are protective of groundwater supply quality. The State Water Board has contracted with ITRC in these efforts.