Education that Works
The Irrigation Training & Research Center is a part of the Cal Poly BioResource and Agricultural Engineering (BRAE) department. The BRAE department is an engineering-based educational unit consisting of professionals whose mission is the study, teaching, and practice of engineering and systems management support for agriculture. The department's "Learn by Doing" philosophy is carried out through its laboratory-intensive classes, practical inter- and extracurricular opportunities, and excellent facilities.

At ITRC and the Cal Poly BRAE department, students are not simply bystanders, invited only to peer into worlds that they will not be allowed to join until they get their degree. At Cal Poly, students are offered unique opportunities to get involved in actual irrigation projects, travel throughout the western states and even internationally, and gain contacts that become invaluable after graduation.
For more information about the BS and MS programs offered by the BRAE department, including required courses and program schedules for MS students, visit the BRAE academic programs and degrees page.
Photo Galleries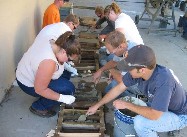 Click on the following links to view photos of BRAE students at work and in the field.
BRAE Department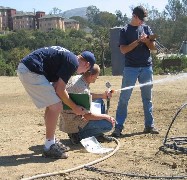 The BRAE department's homepage includes helpful information for current and prospective students such as: