ITRC Store

ITRC now offers a number of items for sale, including books, software programs, and equipment. Click the links above for more information on each category. Sponsor agencies who provided funding for the development of these publications, such as the California Energy Commission (CEC), California Department of Water Resources, Water Conservation Office (DWR), and the US Bureau of Reclamation, Mid-Pacific Region (USBR) are listed under the titles of each item.

Books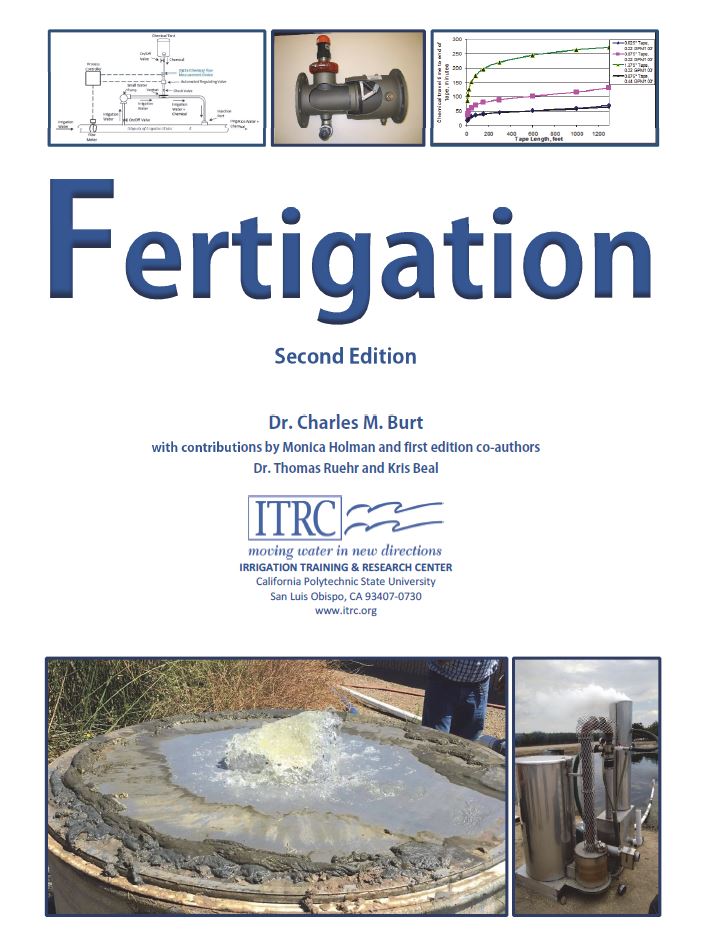 Fertigation, 2nd Ed.
Sponsor: CDFA/FREP
NEW!
(Agriculture) Included are detailed descriptions of injection hardware and techniques, back flow prevention, N, P, K and injection, drip system maintenance, gypsum injection, and specifications for various irrigation methods.
Price to order hard copy: $70
Free PDF Download
Drip and Micro Irrigation Design and Management for Trees, Vines and Field Crops, 5th Ed.
Sponsors: CEC and USBR
(Agriculture) A revised design guide which covers microspray and drip for orchards and vineyards, plus permanent row crops. Sections cover water requirements, selection of emitter spacing and block sizes, efficiency and uniformity, allowable pressure differences, hose design, pressure regulation strategies, filtration, and chemical injection. Includes practical, step-by-step design examples, plus the latest on SDI and row crop drip.
Price to order hard copy: $105
Free PDF Download
Riego por Goteo y Microaspersión para Arboles, Viñedos y Cultivos Anuales
Obra original desarrollada con financiamiento de CEC y de USBR.

(Agricultura) Una guía sobre diseño, la cual cubre aspectos de goteo y microaspersión para árboles frutales y viñedos, así como cultivos en surco o melga anuales. Cubre aspectos sobre requerimientos hídricos de la planta, así como seleccionar el espaciamiento entre emisores y tamaño de bloques, diseño de mangueras, estrategias para el ajuste de presiones, sistema de filtrado e inyección de agroquímicos, etc. Incluye paso por paso un ejemplo de diseño de un sistema de microaspersión, además de los más comunes trazados de líneas y equipamientos de cultivos anuales.
Publicado en 2000.
Precio: $60
Equipment and Catch Cans
Landscape Irrigation Audit Equipment
Catch cans and ring stands can be purchased directly from ITRC - call to place your order using a MasterCard or Visa, or print out this form and send with payment. Ring stands are a form of scholarship fund for the students at the university. The income from the construction of the stands goes directly to the student club to help fund their activities. ITRC has purchased about $35,000 in equipment from the student club since 1996. Please expect about 4 weeks for delivery. Note: The average catch can catchment area for the ITRC catch can cups is 16.25 sq.in.


Complete Landscape Auditor Toolkits (catch cans, steel stands, soil probe, pressure gauge, measuring tape, marking flags, toolbox) can be purchased from various companies.

ITRC Weir Stick
Sponsor: USBR Mid-Pacific Region
Available Sizes:
Short: 7 CFS faceplate, 3 ft handle
Tall: 7 CFS faceplate, 5 ft handle
Grande: 10 CFS faceplate, 6.5 ft handle
Venti: 15 CFS faceplate, 8 ft handle
Prices:
Weir Stick: $80
Faceplate only: $50/stick
Plans only: free
The plans for the ITRC Weir Stick are available for download. To download the PDF file, click here. To order a weir stick, call (805) 756-2434 or download the order form. *Please allow 4 weeks for delivery of weir sticks*