About > Facilities > Water Resources Facility
ITRC Facilities - Water Resources Facility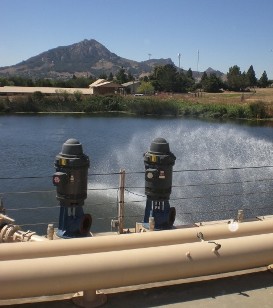 This facility is very unusual for university irrigation teaching programs, and provides Cal Poly with a unique, closely-situated field laboratory for practical demonstrations and laboratory exercises. It is a key component of the BRAE Department irrigation facilities and is well maintained and equipped. ITRC provides the majority of funds for maintenance and improvement.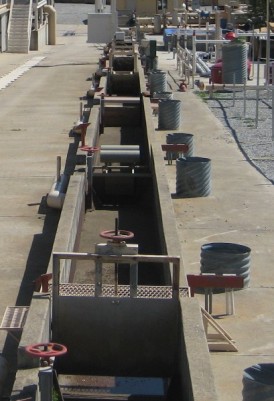 The Water Resources Facility has a 2-acre reservoir with a storage capacity of 15 acre-feet, 11 pumps of various design powered by a 225Kva power supply and an 80 hp natural gas engine. The pumps can be used to supply two canals. One canal is 660 ft. long with 6 pools, with a maximum flow rate of 2000 GPM, and is used to demonstrate wave travel time, manual operation, and centralized downstream control.

The 300 ft. canal has a capacity of 3000 GPM and includes all the standard check structure equipment used for upstream control (long crested weir, flashboards, sluice gate, manual radial gate, automated sluice gate, Langemann gate, ITRC Flap Gate, automated overshot gate, and radial gate equipped with a Littleman).

Additional features of the facility include state-of-the-art SCADA (Supervisory Control and Data Acquisition) systems, an extensive demonstration of HMI (Human Machine Interfaces), water level sensors, VFD (Variable Frequency Drive) control of a pump, a natural gas engine, and modern PLCs (Programmable Logic Controllers). A pipeline teaching facility includes open, closed, and semi-closed pipelines for the examination of hydraulic gradelines and pipeline controls.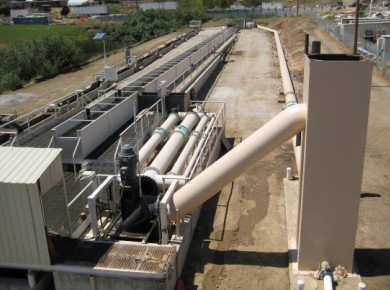 The Water Resources Facility also contains a wide assortment of pipeline flow rate measurement technologies (magnetic, propeller, V-cone, venturi, Hall tube, Collins Tube, Panametrics, vortex shedding, and others) - all of which can be operated in series to compare results. A wide assortment of electronic open channel flow measurement devices is available, plus standards such as current meters. The facility has telephone connectivity, restrooms, and an instruction/demonstration room. One shed serves as a temporary soil salinity testing laboratory.
The Water Resources Facility received a major upgrade with the addition of a certified flow rate measurement facility (with flow rates up to 15 CFS). This includes a weighing tank, volumetric tanks, a flume for testing various open channel flow rate measurement devices, and new pumps and control. A new pump testing station has also been partially completed with the existing funds.

The Water Resources Facility is within 5 minutes walking distance of the Merriam Irrigation Practices Field, and within 10 minutes walking distance of Lab 2. This facility provides BRAE students with a superb and unique experience with water control, SCADA, pumps, and water conveyance equipment. It has allowed the department to expand course content to include these topics, which are important for the current employment opportunities for our graduates.
Photos
Click on each thumbnail below to view a larger image.