About > Facilities > Irrigation Practices Field
ITRC Facilities - Irrigation Practices Field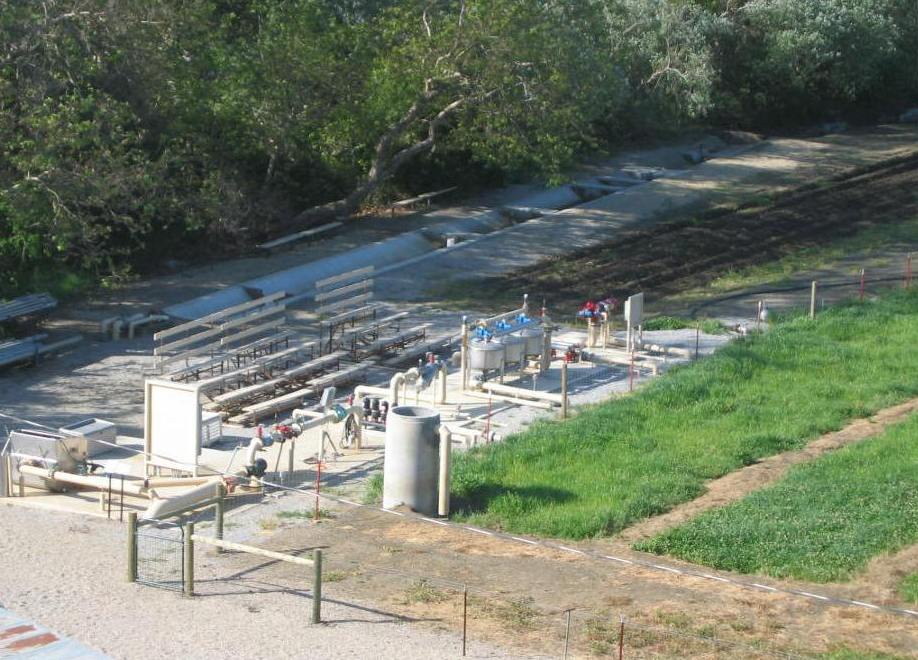 The Merriam Irrigation Practices Field is a relatively flat (slope less than 1.5%) area of approximately 3 acres, supplied with water (1,000 gpm) and power (480 volt, 25 hp). It is used for instruction in BRAE irrigation classes, and for training of industry/government personnel. It is within 5 minutes walking distance of both Lab 2 and the Water Resources Facility. Improvements include: a dedicated water supply connected to Drumm reservoir, two underground pipeline water distribution networks, a canal containing multiple water measurement devices, a runoff return-flow system, an upgraded linear move sprinkler system, a complete set of modern drip system filters, upgraded CIMIS weather station instrumentation, improved fertigation equipment, a furrow demonstration area, border strips, hand move sprinklers, equipment to lay out drip hose, and soil moisture sensors installed throughout the field.
The facility includes 5 neatly organized sheds with a wide variety of equipment such as augers, graduated cylinders, chemigation equipment, pressure gauges, and other items needed to conduct laboratory classes. Future plans include a subsurface drip demonstration area for landscape irrigation, student lab facilities for sprinkler performance, and a power supply for the water measurement channel. Courses utilizing this facility include BRAE 128, 236, 340, 405, 414, 438, 439, 440, 492, 531, and 533.
Photos
Click on each thumbnail below to view a larger image.
CIMIS Station
Filtration System

Pump Station
Linear Move