About > Facilities > ITRC Map
Map of ITRC Facilities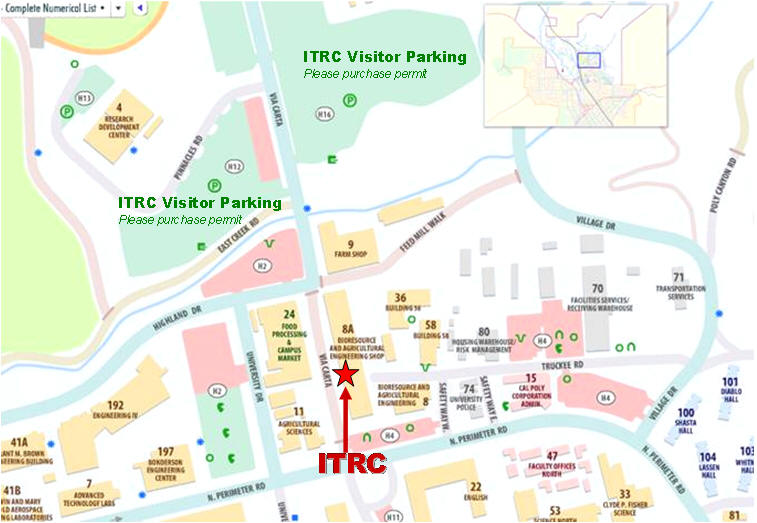 The Irrigation Training & Research Center (ITRC) offices are located in Building 08a on the Cal Poly campus, directly across from the Campus Market.
Map of San Luis Obispo
Directions to Cal Poly
Parking Information:
Parking on campus is by PERMIT ONLY at these times:
During academic quarters: Mon-Thurs 7 a.m. - 10 p.m., Fri 7 a.m. - 5 p.m.

During summer quarter and quarter breaks: Mon-Fri 7 a.m. - 5 p.m.
Daily and weekly permits are available at the Visitor Information booth as you enter campus on Grand Avenue, in parking lots H12, H16 and G1, and University Police. Machines that use permits take quarters and dollar bills. Daily permits are valid in all general lots (NOT staff or Sponsored Guest parking spaces).
Prior to purchasing a general parking permit, please review the following information:
Please review the campus parking rules and regulations prior to parking on campus: Cal Poly Parking Rules & Regulations
Overnight parking is NOT allowed with a general permit.
Long term off-campus parking within the City of San Luis Obispo is not offered.
Paid permits must be displayed in all vehicles parked on campus at Cal Poly.
Permits are not transferable and cannot be resold.
Occastionally, lots will temporarily close for maintenance or special events: Current list of parking lot closures.
If you still have questions regarding on-campus parking, please call the University Police Reception Center during business hours at (805) 756-6654. Questions may also be emailed to parking@calpoly.edu. Please allow at least two (2) business days for a reply.