Evaluation of Existing Agricultural Nitrate Control Programs
This site is intended as a resource for background information and updates for the State Water Resources Control Board (SWRCB) Nitrogen Task Force Expert Panel.
---
---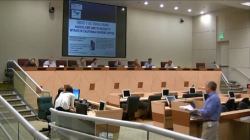 Expert Panel Meetings
Video
Downloads
---
Agricultural Expert Panel
Documents for Expert Panel Members:
Receive updates on this topic by email. Subscribe to the email list:
- Go to: Nitrate Project - SBX2 1 - Expert Panel
- Enter your email address and full name
- Scroll down the page and click on Category name "Water Quality Topics"
- Scroll down list of topics and click on the check box beside "Nitrate Project - SBX2 1 - Expert Panel"
- Return to the top of the page and click the "Subscribe" button to the right of the email address box.


Questions? Comments? Please use our online Contact Form.